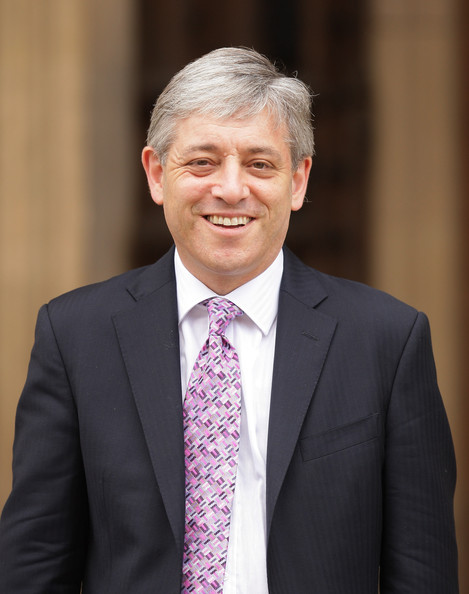 Yes. I had to look up the meaning of 'peradventure' too. The word was uttered by Mr Speaker as part of a verbose and muscular put-down toward the end of a rancorous debate about his tenure, yesterday. The occasion proved to be the greatest moment of political theatre this Parliament.
Since his appointment, Ministers' sentiment toward Mr Bercow have generally swayed between peeved and steaming. Their simmering frustration is entirely derived from his determination to inject greater democratic accountability into the Commons. Necessarily, this gives greater voice to the backbencher, at the corresponding cost to the Executive's pre-eminence. Whips have been stymied and Ministers rudely dragged from their Whitehall oubliettes to answer vulgar questions deemed Topical by the Chair.
Bercow has
silenced the PM
more than once and verbally knee-capped a former Chief Whip,
Patrick McLoughlin
. The current Chief,
Michael Gove
, was publicly spanked on his political arse when he decided to remain ignorant of procedure while announcing the closure of a massive schools building programme. All these actions by Bercow were entirely justified. But Gove has a long memory and with Leader of the House, William Hague plotted a brilliant wheeze to boot out Bercow on 'day one' of the next Parliament.
I find it a great source of reassurance that for an intensely intelligent man, Gove, is simultaneously and reliably dense. Perhaps he is not suited to his role in the Whips Office, certainly getting
locked in the Gents
on his first day was a fairly strong indicator.
Gove and Hague figured they could almost silently lay a Motion for the final day of Parliament while Labour member's clambered aboard their Euston trains bound for their northern constituencies and expecting no more substantive business. But these midget Machiavellians made a huge tactical error by not telling the key backbencher Charles Walker, who chairs the Procedural Committee responsible for these House changes. They shared drinks, giggles and gossip with dear Charles at Hague's leaving do and never said a word.
Come the following day, the Motion prompted unrelenting opprobrium to pour down on sorry Hague's glistening pate. All sides shook their heads sadly about Hague's career finishing on such an ignominious note. Strong party loyalists unleashed withering critiques and only kamikaze brown-nosers mounted any kind of stout support for the Leader of the House. Gregory Barker questioned whether it was actually appropriate for Bercow to be in the Chair for the debate, a suggestion which prompted sustained and voluminous scorn from all benches.
Next up, Charles Walker revealed how his colleagues and friends had humiliated him by their taciturn plotting. The Government thought they could still rely on the lobby fodder to win but they lost it during this exceptional and dignified address by Walker. "I have been played as a fool. When I go home tonight, I will look in the mirror and see an honourable fool looking back at me. I would much rather be an honourable fool, in this and any other matter, than a clever man."
Bercow's eyes reddened as the emotions tangibly rose. Labour members broke more than one convention by applauding.
The vote came and the Noes had it by about 20 and the Speaker
struggled to suppress tears
. He had just chaired the debate where his career hung in the balance but also pivotal were his achievements in wresting some power back to the House from the reactionary and unelected force of No.10 advisers.
Great theatre, it certainly was but beneath it was a collective bipartisan defence of a vital democratic institution. A rare day indeed, when Parliament remembered what it stood for.